myEbike Classic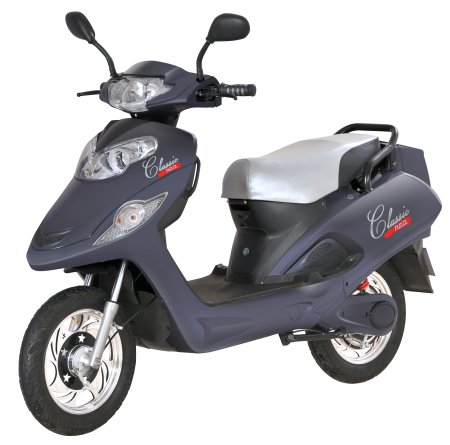 Manufactured by Paradise Electro Auto
User Rating:







Score: 4 (5 votes)
Price: Rs. 28,500

Category: Electric Scooter


Description
This electric scooter is imported or manufactured by Paradise Electro Auto. It has a autonomy of approximately 100 km on a single charge and a top speed of 25 Kms / hr.
No registration or license is required to drive this vehicle.
from the manufacturer:

next generation E-Bike….. MY E-BIKE is designed for Indian road conditions, environment and Indian people. Above common e-bike features like economic, environment friendly, low maintenance, safe ride; MY E-BIKE is the biggest in Size with comfortable oversized seat and loading capacity of 150 kg gives a powerful ride that's easy to handle. Along with high power 48 V 24 Ah battery gives mileage above 100 km ride per charge makes MY E-BIKE the perfect e-bike for mega and medium size cities. MY E-BIKE is available in three models Classic, Sporty and newly launched model FOTON. MY E-BIKE models have most popular auto color, rich stylish design, electrical enhancements like multi-reflector headlights, tail light and rear reflectors, Telescopic front suspension, Heavy duty Chassis and broad tyres makes for a quiet ride.
MY E-BIKE is a state of art e-bike which have unmatched technical specifications and most suitable for Indian people city transportation need. Its best suitable for High school and college students, House wives and working women, senior citizens, Courier – postmen, Delivery men, Field and service engineers, Marketing salesmen, Office boy etc. ARAI Certification was attained for this product.
Like this product? Tell everyone:
Specifications
| | |
| --- | --- |
| Range/Autonomy: | 100 km |
| Top Speed: | 25 Kms / hr |
| Weight: | 78kg, 120kg payload |
| Motor: | 48 Volt, DC Motor |
| Wattage: | < 250W |
| Batteries: | 4 x 12V-24Ah |
| Voltage: | 48 V |
| Charger: | 2.8A |
| Charge Time: | 6-8 hours |
| Brakes: | Front & Rear Drum |
| Wheels: | 16" x 3" |
Contact Details
User Comments
I want to buy this E BIKE. I live in kolkata 700145.How I get it at my location?
sir/madam,i want to purchase'' my e-bike classic'',let me know the address of nearest dealer.i am from vijayawada[andhra pradesh]thanks,+919866907560,e-mail;mdismraj@gmail.com
Dear Sir/Madam

We are interested in purchasing your product.
Please kindly send me your latest catalog. Also, inform me about the
Minimum Order Quantity, Delivery time or FOB, and payment terms
warranty.

Your early reply is highly appreciated.

Thank You !
Best Regards,
Valintine Murphy
(Purchasing Manager)
Email vallenciacompany1@gmail.com
HIPOWER is the electric bicycle+scooter factory from China. Looking for buyers.
ebike.sales2@hipowergroup.com
www.hipowergroup.com,HIPOWER New Energy Group Co., Ltd

Morello- Yamasaki successfully marked its arrival with three extremely stylish looking models of ebikes called Punk, Doodle and Ripple. But this is just the beginning.

We are happy to inform our consumers that we are not about to slow down. We have an attractive line up of products to be launched in the near future. We are introducing a whole new range of golf carts, gas scooters, dirt bikes, two and four wheel battery operated vehicles and petrol two wheelers as well.

Keep pace and watch out for our future introductions. Visit http://morellolife.com/contact.html
Regards
Nishit Mehta, Dealer Development
9909961049, 9727593777
nishit@morellolife.com,sales@morellolife.com

Hi E-bike manufacturers,

We are leading E-Scooter battery manufacturer in Ningbo,China. Our products ranges from 12V10AH to 12V22AH,all the batteries had been certified by"CE/UL/ROHS/SONCAP"...and so on.

If you are interested in,welcome to contact me directly.

Hellun Dong

Sunbright Power Co.,Ltd. China
M:+86.15867529329 | F: +86.574.6555.2928 |hellun@sbb-battery.com
MSN:jinglidong123@163.com Skype:donglijing2
http://www.sbb-battery.com
http://sunbrightpower.en.made-in-china.com/
"Green Energy for Life"
Main Business:
Lead Acid Batteries Manufacturer, Batteries for Electric Vehicles,
Batteries for Telecom, Power Tools, UPS, EPS, Solar Energy etc.

informative site. very good.
if any one wants to purchase second hand HERO OPTIMA (not in working condition ,maintenance required) than pls contact me at 9810372682

Dear All E bike users : Please contact us for ebike Battries Made in Germany : 48V 24ah 5 HR, with One year Warranty : Contact Mr Ravichandran - 09440172897 at Vijayawada - AP : Our company Web Site : www.myebike.in : Ravichandran Zonal Manager for Sales enq.

Paradise-Sunkkalp -MNC Group- Foton Italian-E-Scooter / E bikes Two wheelers released & Launched in Indian Market to beat present Petrol Prices. Foton Ebike gives 100 KM Drive with One unit current with Latest Technology & Features with out petrol . We wish to appoint dealers in major citys. If you are intrested to take Dealership in your area pl contact Zonal Sales Head :- Ravichandran - Mobile No :- 09440172897, Mail ID :-myebike_ap@yahoo.in. We will get back to you on your enquiry.
my email id: talupula_nagaraju@yahoo.co.in

myEbike Classic.....plz send the show room address in chandigarh or dealer in changigarh...
my mobile:9569013318
please send the showroom details in chandigar:)
my mobile no:9569013318
Dear All:

This is jackie chu from Changzhou Hongdu E-Bicycle co.,ltd.

we manufacture e-bike,e-trike,e-scooter,e-vehicle ,e-skateboard etc.Our factory is the third largest manufacturers of e-bike and related products in China.

for more information, pls contact
email:cqlfly@msn.com
msn:cqlfly@msn.com
skype:cqlfly
www.hongducz.com
mobile:+86 15895069501
PARADISE ELECTRIC BIKE - SUNKKALP GROUP by srikanthganta
Hello Freinds,
This is a great Vocation that a new e bike has been arived to INDIAN MARKET which gives good milage of 100 Km/hr which is 100% guarented as per ARAI CERTIFICATE the company invites a good CUSTOMERS and finacially suppoted DEALERS IN ANDHRA PRADESH MARKET for any kind information you can contact our ZONAL MANAGER-SALES(SOUTH) Mr.K.RAVICHANDRAN
Ph;9440172897 the company aim is to give better support to
DEALERS who had tie up with us and good SERVICE to our beloved CUSTOMERS to know about company details you can go through official web-site www.myebike.in
we wish the above information will gives you good advantage
THANKING YOU

PARADISE ELECTRIC BIKE


Paradise Sankulp Group Italian World top most E-Bikes latesst model wish to appoint Dealers in Andhra Pradesh, if you are instrested in our E bikes Dealership Pl contact my mobile 09440172897 - Pl note in our E bike for One unit chargeing you get 100 KM drive in Germany 5Hr Battery this is big achivement in our Brand Foton pl call for more information. Sunkalp Group - MNC
I want 2 purchase an electric scooter whose top speed is more than 25km/hr. Can anyone help me.

my email address is ayan0893@rocketmail.com

and my mobile no. is 9621477901
any body who need dealership in ANDHRA PRADESH can contact 9440172897