GENXT E-Royale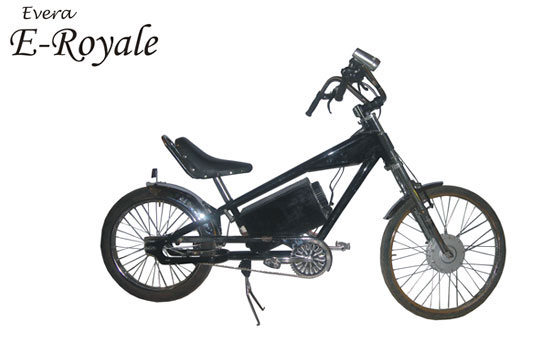 Manufactured by GENXT POWER INDIA LTD
User Rating:







Score: 4.5 (6 votes)
Category: Electric Bicycle


Description
This electric bicycle is imported or manufactured by GENXT POWER INDIA LTD. This vehicle has a top speed of 25 km/h and an autonomy of approximately Upto 140 km/charge on a single charge .
No registration or license is required to drive this vehicle.
Designed & Developed by the team of Genxt & Mintage Consultants Pvt. Ltd., based on Indian Patent No. 183152 & International Patent No. 96 - 1136.Like this product? Tell everyone:
Specifications
| | |
| --- | --- |
| Range/Autonomy: | Upto 140 km/charge |
| Top Speed: | 25 km/h |
| Weight: | 50kgs |
| Motor: | 24V DC Motor |
| Batteries: | 2 x 12V Sealed Lead Acid Maintenance Free Battery |
| Voltage: | 24V |
| Brakes: | Front & Rear hand brakes. |
| Wheels: | Spoked Wheels. |
This product is no longer in production or we have no response from the manufacturer so no contact details are available.
User Comments
Comment posting for this product has been disabled since the product is no longer manufactured.
hi i want to buy this bike,i am living in mumbai so can you tell me where i can test ride this bike to get actual idea about it please send me the deatail address ,i am waiting for your reply
e mail: balram16682@yahoo.co.in
HIPOWER is the electric bicycle factory in China. Looking for buyers.
ebike.sales2@hipowergroup.com
www.hipowergroup.com,HIPOWER New Energy Group Co., Ltd

sir i want to purchase a bicycle like this please send me info. about this and dealer detail in delhi.

I sincerely hope to produce and market it. subid.ks@gmail.com
can you please send me price details and if you do any electric kits.
i want to buy one, please send me dealers details in kanpur, mumbai and lucknow
Hi.... would like to know price of the cycle, dealer location in Goa and does it really give 140 km per charge as mentioned!. Thank you.
how much would this cost in Delhi?
Thx,
send me more details and price
thanks
mario
please send me price details.
please send me the price on my id-> sameer1996@yahoo.co.in
We are largest lead acid battery manufacturer in China, and we are interested in doing business with you.Mail: cntnexport@gmail.com; website:www.cn-tn.com
Can this kit be attached to any bike? If so, contact me at agupta@ti.com
Looks low. Canm seat be raised? Dealer and service in PondyTN? Price?
Contact jamie_randers@yahoo.co.uk
please contact me on mail id suresh babu ssglsn_1985@yahoo.co.in need the infomation regarding the deler ship of this byke
please contact me on mail id
suresh babu bethinidi@hotmail.com
i need the infomation regarding the deler ship of this byke