YASH Docile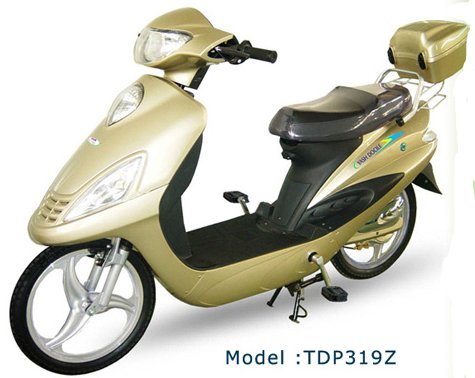 Manufactured by CYNOSURE Enterprises Ltd.
User Rating:







Score: 3 (1 votes)
Category: Electric Scooter


Description
This electric scooter is imported or manufactured by CYNOSURE Enterprises Ltd.. It has a autonomy of approximately 60 km on a single charge and a top speed of < 24 km/h.
No registration or license is required to drive this vehicle.
Like this product? Tell everyone:
Specifications
| | |
| --- | --- |
| Range/Autonomy: | 60 km |
| Top Speed: | < 24 km/h |
| Weight: | 55 kg, payload 150 k |
| Wattage: | 240 W |
| Controller: | 240W, 48V |
| Batteries: | Lead acid maintenace free, 12AH * 4 |
| Voltage: | 48V |
| Charger: | 2.5 A, 220V |
| Charge Time: | 3-6 hours |
| Wheels: | 18" x 2.5" |
This product is no longer in production or we have no response from the manufacturer so no contact details are available.
User Comments
Comment posting for this product has been disabled since the product is no longer manufactured.
My yash d is not working since I purchased it in 2010.I think the cvontroller is not working. pl send the digital controller & wiring diagram. I will pay the cost in advance. My phone no :08895878002/098961668685.Please help me to start my ebike 250w 48v YASH DOCILE. if not please send me any controller with diagram & mI will fit it. Thanks ,Jalal Adeni

Hi Guys,

I am Yo Bike Dealer from LATUR Maharashtra. If anybody needs any of spares, please write down me with every detailed specifications.
Thanks & Regards
Shirish Garje
Garje Agenceis
Call: 09421872275
shirish.garje@gmail.com
I want to buy Yash e-bike please give me details of all models of Yash and their prices. My e-mail mouli_nana@yahoo.co.in
I WANT A BIKE WITH 150KG OR MORE CAPICATY AND WITH GOOD SPEED PLEASE GIVE ME AT A GOOD PRICE I WILL RECOMEND TO ALL MY FRIENDS ALSO. IF POSSIBLE I WILL BECOME A DEALER ALSO. YOU CAN CALL ME ALSO IN MY CELL - 09843315385.
MY EMAIL ID :-balumanikandan79@gmail.com
PLEASE SEND THE DETAILS SOON.
WAITING FOR YOUR MAIL OR CALL MANIKANDAN
Surprisingly, the e-mail address of Cynosure is not available for faster communications with the manufacturer. How to lodge the complaints against the dealer?
Dear Sir ,

I would like to market your electric vehicles in India , kindly send me brochures, price list ( Hyderabad, India ),Terms & Conditions.

Mobile No : 91 - 9908258161.

E-mail Id: keterol@yahoo.co.in

Thanks & Regards,


K. Ram Mohan Rao
The inside fibre plate of my yash's seat has broken! Where can I get a replacement? What will be the cost of a new seat?
im not satisfied with the performance of the vehicle. the spares are not available because of the delay of the company and due the improper servicing of the dealer service For more details about the performance pls contact 9440112219
nice bike!!!!!!!!!!!!!!!!!! petrol saves......
We are largest lead acid battery manufacturer in China, and we are interested in doing business with you.Mail: cntnexport@gmail.com; website:www.cn-tn.com
sent me the dealer address in coimbatore
I am suffering from the problem of non availablity of tyre and tube of Yash Docile Model e-bike.
Amit.
po-Katwa, Dist. Burdwan, WB.
Ph.9851422295/03453-255767
I am interested in dealership in Hyderabad (preferably in ECIL X Roads). My phone No. is 9391084952 (not during 9-5 hrs).


It is verry nice bike. But battery is not bake up to 60 kms. It's give only 30 kms.My cell No 9247286941
i want the dealer details in Eastgodavari district kakinada.
Iam interested to take dealership in Hyderabad and nearby Areas. Please provide the details.
hello sir u have provided an extraordinary vehicle in the market.it is very use full to all range of persons.one thing u have to put an auto power generator
you have to concentrate on ur bikes speed it is too slow ie <24kmph
mahesh.1577@yahoo.co.in
I wish this new generation product may fetch enormous appreciation all the times.
Pl.mail me all details about it.
mmpverma@rediffmail.com
dont have any dealer in gujarat?

kindly give me commercial details at shailesh_p46@yahoo.co.in or call on 09879085357
Hi pls provide power output /pulling torque, price test ride n purchase related info in kolkata at asitabh@rediffmail.com or contact me at 9231808160