Hero Dash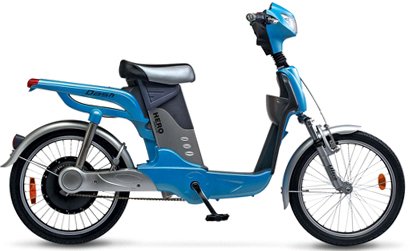 Manufactured by Hero Electric
User Rating:







Score: 2.3 (3 votes)
Category: Electric Moped


Description
This electric moped is imported or manufactured by Hero Electric. This vehicle has a top speed of 25 km/h and an autonomy of approximately 45 km on a single charge .
No registration or license is required to drive this vehicle.
Like this product? Tell everyone:
Specifications
| | |
| --- | --- |
| Range/Autonomy: | 45 km |
| Top Speed: | 25 km/h |
| Weight: | 47 kg, max load 75kg |
| Motor: | Rear wheel hub motor, Ultra Motors |
| Wattage: | <250W |
| Batteries: | Sealed Lead Acid, 36V 15AH |
| Voltage: | 36V |
| Charger: | 36V, 2A |
| Wheels: | 20" x 2.125", spokes |
This product is no longer in production or we have no response from the manufacturer so no contact details are available.
User Comments
Comment posting for this product has been disabled since the product is no longer manufactured.
Morello- Yamasaki successfully marked its arrival with three extremely stylish looking models of ebikes called Punk, Doodle and Ripple. But this is just the beginning.

We are happy to inform our consumers that we are not about to slow down. We have an attractive line up of products to be launched in the near future. We are introducing a whole new range of golf carts, gas scooters, dirt bikes, two and four wheel battery operated vehicles and petrol two wheelers as well.

Keep pace and watch out for our future introductions. Visit http://morellolife.com/contact.html
Regards
Nishit Mehta, Dealer Development
9909961049, 9727593777
nishit@morellolife.com,sales@morellolife.com

Despite filling the test ride form online, there is no response from the company. I dont even get to see their products on roads in Pune??
please, mail more details and price of this and other models at ombha47@rediffmail.com

wish to become your dealer in paithan [maharashtra] for electric bikes/mopeds. I have 500 sq.ft road facing semibasement space at PAITHAN 431107 road touch.please send me the price at ombha47@rediffmail.com
sand mail ebikezone@yahoo.co.in for spears of all e bike reqirement or contect 09227903444.
I wish to become your dealer in Coimbatore for electric bikes/mopeds. I have 1500 sq.ft road facing semibasement space on thadagam road.
please send me the price at skbsouparnika@gmail.com
We are largest lead acid battery manufacturer in China, and we are interested in doing business with you.Mail: cntnexport@gmail.com; website:www.cn-tn.com
please mail me technical specifications of motor,control system & price of motor to swamiabhijit@gmail.com
Pls quote me at shkehart5@yahoo.com
please specify the price and the dealer address in bangalore
please mail the contact details for Bangalore to hr.anand@rediffmail.com
please mail more details and price of this model to jeevan.naidu@gmail.com
please mail more details and price of this model to jeevan.naidu@gmail.com
please mail more details and price of this model