Petra Krono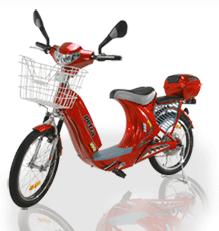 Manufactured by Petra
User Rating:







Score: 4 (0 votes)
Category: Electric Moped


Description
This electric moped is imported or manufactured by Petra. This vehicle has a top speed of 30 km/h and an autonomy of approximately 40-50 Km / charge on a single charge .
No registration or license is required to drive this vehicle.
Like this product? Tell everyone:
Specifications
| | |
| --- | --- |
| Range/Autonomy: | 40-50 Km / charge |
| Top Speed: | 30 km/h |
| Weight: | 48 Kgs |
| Motor: | DC Brushless Hub Motor, rear wheel |
| Wattage: | 250W |
| Controller: | 250W, 48V, 15A |
| Batteries: | Sealed Maintenance Free Lead Acid Battery, 10AH, 12V*4 |
| Voltage: | 36V |
| Charger: | 220V, 1.6A - 1.8A |
| Charge Time: | 6-8 hours |
| Brakes: | Cantilever brake, band brake |
| Wheels: | 20 inches |
This product is no longer in production or we have no response from the manufacturer so no contact details are available.
User Comments
Comment posting for this product has been disabled since the product is no longer manufactured.
Plaese sand to delhi daeler adress and contect no,my emailadress asgarkhan39@yahoo.in
price not shown.dealers address & contact information in Bangalore
Morello- Yamasaki successfully marked its arrival with three extremely stylish looking models of ebikes called Punk, Doodle and Ripple. But this is just the beginning.

We are happy to inform our consumers that we are not about to slow down. We have an attractive line up of products to be launched in the near future. We are introducing a whole new range of golf carts, gas scooters, dirt bikes, two and four wheel battery operated vehicles and petrol two wheelers as well.

Keep pace and watch out for our future introductions. Visit http://morellolife.com/contact.html
Regards
Nishit Mehta, Dealer Development
9909961049, 9727593777
nishit@morellolife.com,sales@morellolife.com

Please send me price details. I am from Kolkata,India
what is the cost of this bike in rupees?
Good p.m. Sir/Madam:

Im from Philippines,Im very much interested on Petra Krono,if possible how much does it cost its frieght to the Philippines?And how much is the price for one unit?Is it not too expensive?Because,im very interested about this unit and its details info.

I do hope you could accomodate my inquirey,Sincere Thanks.

Robert Lapuz

Here's my personal info.that you could reach me;

lapuz.robert@yahoo.com
RobertLapuz@Gmail.com
Tel.No.(residence)--(053)321-6339
plz mention the price also
please provide price details
please provide someone to contact. please do it a bit faster as i want to buy it immediately
my email is ppmsaru@gmail.com
tell me the preice please
provide delear address in delhi and prize